For the second time in recent weeks an Irish writer has been honoured with a Google Doodle. The centenary of the death of Bram Stoker was observed earlier this year in
April
. Google however has chosen to commemorate his birth, with a doodle depicting Stoker's immortal creation (literally) of Count Dracula.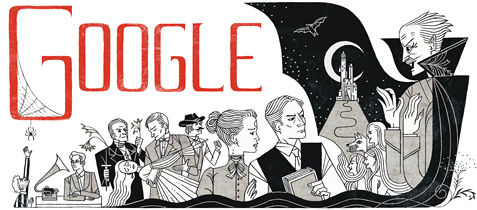 Stoker was born in Dublin. His early years were spent at 15 Marino Crescent, Clontarf, where he was bedridden until the age of 8 due to a mysterious illness. It was during this period of convalescence that the seeds of his future literary output were sown. His mother, who grew up in the west of Ireland and had witnessed first hand the horrors of the Great Famine in Ireland of the 1840s, recounted stories to him from that period. These obviously left a lasting impression, even when he regained his health.
Bram Stoker is arguably Ireland's most successful writer, although his reputation has been rather overlooked in his home country; a country that is generally proud if its literary accomplishments and heritage. This year however, on the centenary of his death, a
Bram Stoker Festival
has been inaugurated. The festival "aspires to honour his memory and achievements and to encourage a spirit of enquiry and curiosity about the creator of one of literatures most famous characters."
His fame rests chiefly on the novel
Dracula
, which has grown to become more than a literary masterpiece; it has in fact become a cultural icon and achieved a certain level of immortality (pardon the pun) among fans of the vampire horror genre. According to the
Bram Stoker Festival website
:
Though when he died, not a single obituary mentioned his most famous work, today it has been translated into over fifty languages and Count Dracula has become the most filmed fictional character in movie history.
In fact, Stoker's literary output was prolific. Other works, such as
The Lady of the Shroud
or
The Lair of the White Worm
are still in print and have also been adapted for other media including TV an cinema.
Bram Stoker was born on this day, 8th November, in 1847.